Education Unions Plan Legislative Agendas
By Harry Beall, NSEA-R representative to the NSEA board of directors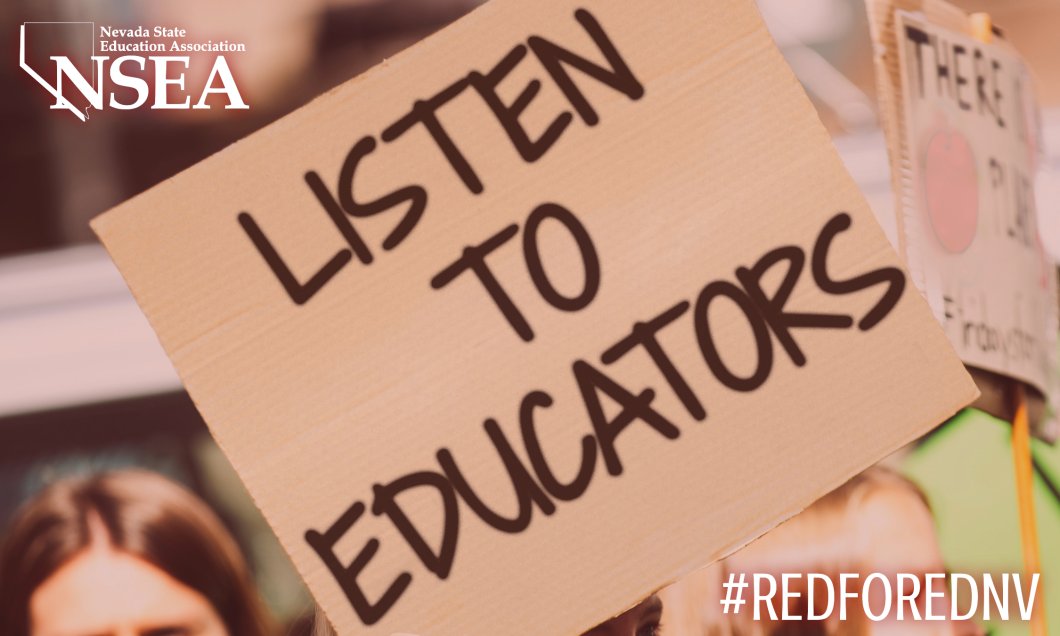 Now that the presidential election is over, the National Education Association is already making plans for improving the country's education under a Biden-Harris administration.
The NEA believes there will soon opportunities to implement federal policies to help students and educators. For example, NEA would like to fix the Public Service Loan Forgiveness Program to give educators debt relief and to help ease the teacher shortage. They would also like to see racial inequities in education be corrected, but that is just a start.
In addition, NEA wants smaller class sizes, a suspension of federal testing requirements until the COVID-19 pandemic has passed, and more adequate salaries for education professionals. However, overriding everything is adequate funding for education.
The NEA is asking congress to provide at least 175 billion dollars in additional federal emergency aid to stabilize public education funding because state and local tax revenue throughout the country has been adversely affected by COVID-19.
The NEA also would like to work with the Biden-Harris team on health care. The NEA wants national leaders to declare that affordable, comprehensive health care is a right and to ensure that our national health care policy provides high quality, universal health care at the lowest possible cost.
American education has suffered economically in recent years. The NEA believes raising educator salaries to be in line with competing fields will help school districts recruit and retain a high-quality workforce. Most states are currently experiencing shortages in qualified education employees, from teachers to nurses to bus drivers.
Here in Nevada, the Nevada State Education Association will also be bringing up many of those NEA agenda items to our state legislators. Our currently weak tourist economy is causing us to have an equally weak tax base. Democratic legislators had hoped to gain enough legislative seats during the election that they might have a veto-proof majority to approve new taxes unilaterally. Republicans, however, picked up enough seats to ensure that will not happen.
Last August, shortly before school began, The Nevada State Education Association voiced its support for a bill which would increase taxes paid by the state's mining industry. AJR1 would increase the amount from its constitutionally mandated 5% of net proceeds to 7.75% of gross proceeds.
Nevada is the world's fifth largest gold producer after China, Russia, Australia and Canada. Mining businesses grossed $7.8 billion here in 2019, but after deductions, they paid only $122 million in taxes to state and local governments. That is just over 1.5% of all the proceeds mining companies made here in Nevada.
When the Nevada state legislature resumes again on February 1, educators will also be at their jobs. That is why NSEA will be looking to our retired members to provide legislative testimony on the mining tax and on other education issues. If you would like to speak to the legislature, contact Tom Wellman, Steve Horner, Brian Morgan, or Harry Beall.
Election news
Tom Wellman, NSEA-Retired President
It's time to make some changes! Specifically, it's time to change leadership positions within NSEA-R. It's time for new blood to take our organization to new heights. The election for new NSEA-R leadership will soon be upon us, and we are looking for qualified, dedicated, and hardworking individuals who want to make a difference for retirees in the state of Nevada. Our leaders must also be interested in supporting NSEA in their work to provide quality education for the students of Nevada and in supporting adequate funding for public education.
There are two positions that will be open this election cycle, NSEA-R president and NSEA-R representative to the NSEA board of directors. Candidates interested in running for either position must be aware that in addition to their duties with the NSEA-R board of directors, both will also have a seat on the NSEA board of directors and will be expected to attend all meetings in order to represent our members. Candidates elected to either position will also be delegates to the NSEA Delegate Assembly. Any candidate deciding to run for President of NSEA-R will be a delegate to the NEA-Retired annual meeting and the NEA annual meeting.
The next pages of this newsletter cover the timelines for this election, along with the duties and responsibilities for both offices. The rules for nominating are also included. Please take the time to read these rules carefully and to follow them when if you chose to nominate a member. The most important item to remember in this process is to never nominate an individual without their authorization or consent. No candidate will be placed on the ballot without their approval. Please be aware that nominations will NOT be conducted out of this newsletter. All election nomination business will be sent under separate cover or email.
There have been changes made to the nomination procedure along with the actual balloting for our members. In an effort to save money in the election process, we will be using a form that is a hybrid (you got to love that word). Members will be given an opportunity to give us their preferences (paper or electronic) for all election procedures that NSEA-R will undertake. This earlier proved to be very successful for us, and we will continue to us this process going forward. If you have any questions or concerns about this election process please feel free to contact me at your convenience. I can be reached at [email protected] or 702-525-9084.
My term expires at the conclusion of the NEA RA in July of 2021. It has been my honor and my privilege to represent the members of this program. I have had the honor of working with some exceptional leaders as we worked to elevate this program and our goals, and I will continue to work with and support the goals and objectives of the NSEA-Retired.
Please take this opportunity to get involved! Thank you!
NSEA-Retired Elections Timelines
This year, the members of the NSEA-Retired program will elect a new president and our representative to the NSEA Board of Directors. Below you will find the timelines that we will be following to make this election happen. Those members who request a mail-in nomination form will be sent one by US mail by Wednesday, December 1, 2020. Those members using the electronic balloting and voting systems will receive their nomination forms through the current email address on file with the membership office at NSEA. If you have any questions about this system please feel free to contact Tom Wellman at [email protected] or 702-525-9084.
1. Nomination form for 2 officers (President and the NSEA-R representative to the NSEA Board of Directors) to be sent out electronically and mailed to those that had requested it be mailed.
Wednesday, December 1, 2020
2. Nomination form to be returned either electronically or by mail (members choice) to NSEA office (Las Vegas)
Monday, January 4, 2021
3. Nomination forms to be opened and recorded.
Candidates will also be contacted to make sure they are willing to run for the office –
Wednesday, January 6, 2021
4. Ballots to be sent out electronically and mailed.
Wednesday, February 24, 2021
5. Ballots to returned to NSEA office (Las Vegas)
Monday, March 15, 2021
6. Ballots to be counted in NSEA office (Las Vegas)
Wednesday, March 17, 2021
---
Duties and Responsibilities for the
President and NSEA-R representative to the NSEA board of directors
Nominations are open after December 1, 2020 for the officer positions of President and NSEA-R representative to the NSEA board of directors. Those elected will serve from July, 2021 at the end of the NEA RA until July, 2024 at the end of the NEA RA. Please read and carefully follow the rules for nomination. This is very important! Potential candidates will not be added to the ballot without their consent and authorization.
The duties of the President are:
a. call and preside at regular and special meetings of the NSEA-R Board of Directors and will serve as a representative for the retired program to the NSEA board of directors;
b. appoints, with the advice and consent of the NSEA-R Board of Directors, members of all standing and special committees, unless otherwise provided for;
c. be an ex-officio member of all committees;
d. assist local chapter presidents in membership promotion and in the formation and development of new local chapters;
e. work with NSEA to develop legislative priorities on retirement and insurance.
f. be the NSEA-R delegate to the NEA-R annual meeting and NEA RA and serve as a delegate to the NSEA Delegate Assembly.
g. performs other duties as directed.
************************************************************************************The duties of the NSEA-R representative to the NSEA board of directors:
a. The retired member(s) of the NSEA Board of Directors shall serve in accordance with provisions of the NSEA Bylaws.
b. report to the NSEA-R board of directors on any and all activities of the NSEA board of directors.
c. serve as a delegate to the NSEA Delegate Assembly.
************************************************************************************
NOMINATION RULES:
· An NSEA-Retired member may nominate himself/herself or another member.
· Prior consent of the person being nominated is mandatory.
· Do not nominate a person without their permission.
· Names will not be put on the ballot without authorization.
· NSEA-Retired pre-subscribers and staff members cannot nominate, hold office or vote.
· A candidate may be nominated for only one officer position.
· No NSEA or local staff person nor NSEA equipment may be used in sending/transmitting a completed nomination form.
· The nomination form may be electronically transmitted or submitted by US Mail to the NSEA office in Las Vegas.
If there is a part of the nomination form that has not been completed, the nomination will not be considered. Complete contact information must be included on the form. You may nominate for one or both positions.
2020- 2021 Elections: NSEA-R Nomination Form: Duties P/NSEA-R rep to NSEA board and nomination rules
"Sarah Says", November 2020
Sarah Borgman NEA-Retired President
In this season of Thanksgiving, I want to take this opportunity to thank each of you for your advocacy, your willingness to step up to do a task, and for your many kindnesses. It has been an awesome year of efforts for this past election and you did not fail. However, as I write and the results are unknown, what really matters to me today is what you tried to do, what a plethora of ideas and activities abounded, to know you kept on going. Through all of this we were burdened with a virus and limitation, but it didn't stop you! The true meaning of team work surfaced; the spirit of patriotism shone through, and the efforts to protect our democracy marched on. We can say with our union brothers and sisters that we gave it our best shot. When I give my special thanks, be assured you are on my list…now and always. Happy Thanksgiving!
Sarah
Learn More
What's On Your Mind?
We're here to help. Our community comes to us seeking tools (guides, reports, trainings, and more) to help answer everyday questions. We're here to support you in whatever you need.
Join NSEA
Join us for a year of achievement and excitement!